Facts & Research

From left to right:
Dr S Rajendran PHd; AIC; FICS; CText FTI
Professor Subhash Anand MBE - Professor of Technical Textiles; Comp Ti; CText FTI; BSc; MSc Tech; PHd
Dr Karthick Kanchi Govarthanam Ph.D; MSc; B.Tech; CText ATI
ABurnet works with leading universities in the field of technical textiles and innovative recycling initiatives. By combining University knowledge with ABurnet's manufacturing expertise gained over 110 years, our own staff have developed unique technical fabric structures and filed four patents developing products with the following benefits:

ABurnet are currently working with a leading University researching novel ways to recycle hair containment products which will lead to significant reductions in CO2 and landfill.
------------------------------------------
With our on-going commitment, we listen to customers' needs and concerns, developing products and training and implementation aids to help you get that all important staff co-operation to best practices. With tested product, optimised for performance and wearer acceptance, together with effective procedures and training, we help you get it right – aiming for zero hair contamination. By using ABurnets HairBarrier Tools we can review the total data which will be used to help drive down hair contamination for the benefit of the food industry. By highlighting common issues and working with industry we will produce new wear guides and innovative products for continuous improvement.
The more HairBarrier Tools are used, the more effective they become.
Click on the logo to register - its free and quick!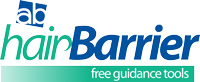 If you would like further information, please click here to contact us