When should you wear a beard snood?
FACT: In total by area, you are likely to shed 6 times more hairs from the beard as you are from the head
FACT: 30% of beard and moustache hairs are in the Telogen stage (resting). During the Telogen stage, hairs are being shed.
FACT: There are two times the quantity of hairs in a beard as opposed to the head by area
FACT: Proportionately, there are 3 times as many beard and moustache hairs at the Telogen stage (resting/shedding) than on the head.
FACT: Growth rate of hair in beards is reported to be between 0.27 and 0.4mm in 24 hours.
Although this varies between invididuals, this demonstrates the need for any male workers to wear a beard net even if they have stubble like the man below:
Click on the picture below to visit our Beard Snood Products page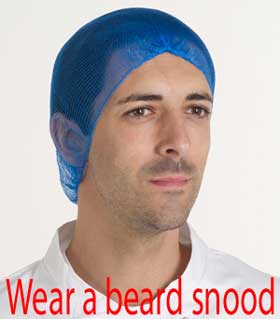 If you would like further information, please click here to contact us