Latest News
Recent News
ABurnet move to meet demand
Here at ABurnet, the UK's leading hair containment specialist, we have officially moved and settled into our new home in Ilkeston, Derbyshire.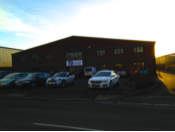 Our new site now contributes to a total of 79,000 square feet of space - resulting in us having the largest hair containment solutions production capability in the UK.
The new premises features 2,500 square feet of office space, also boasting newly fitted meeting rooms. Warehouse space has also increased, providing more efficient storage of all our products. The higher amount of square feet also enables an increased production of our technically advanced products.
The move follows ABurnet's increasing success and considerable expansion, following the success of our new and innovative KleenCap MAX. ABurnet is proud of the success of our solutions globally, with a high proportion of products being exported worldwide.
Richard Burnet, Managing Director of ABurnet says "With 2015's sales up over 15%, the new product centre affords us the space needed to service the growing demand for our new hair containment products such as HairTite and KleenCap. The move finalises the development and houses the machinery for our other new and exciting retail headwear - we are grateful to the Derby Enterprise Growth fund for their help in allowing us to achieve this goal."
"The new factory, all freshly painted and laid out to facilitate modern manufacturing best practice is a reflection of the hard work and dedication of our loyal staff - all of whom I'm pleased to say have moved with us. I'm very proud to have the privilege of leading our team to serve the global food industry with world leading hair containment solutions."